I hope everyone had a nice time over the holiday season. I for one certainly did, and although 2016 has been a bit of a shaky start for yours truly, I had a good time with my parents and siblings on Xmas. A personal holiday tradition in my family house are games of Mortal Kombat with my younger brother, and I'm pleased to say that despite only playing once a year, my muscle memory remains solid enough to reliably kick his arse. It helps that the series remains pretty consistent in gameplay. As a callow youth I was a poster boy for the satanic panic, and naturally Mortal Kombat was my fighting game of choice. I played the hell out of MK2, 3, and Trilogy and later MK: Deception on my console and after leaving the nest I got to play some of the latter instalments with my younger sibling. Although I haven't owned a console for years now, I still look forward to my annual tournament but sadly 2015 brought no joy on that front, the family had sold the old console and its complement of games. Still, 'twas the season and I had MK on the mind, and it occurred to me that there's more than one way to get that fix.
Mortal Kombat's rather convoluted backstory seems to have a lot of D&D DNA in it. There are humanoids, elementals, planes of Order and Chaos, sorcerers, clerics, undead, fantastic worlds, dungeons and so on. Throw in some Big Trouble in Little China-style cod-Orientalist mythology and you have Mortal Kombat. There are a whole of  D&D-able elements from the series, for the purposes of this post I'm going to tackle my favourite monsters from the games.
I for one, can see a lot of potential in replacing the standard goblinoid army guys with these badasses: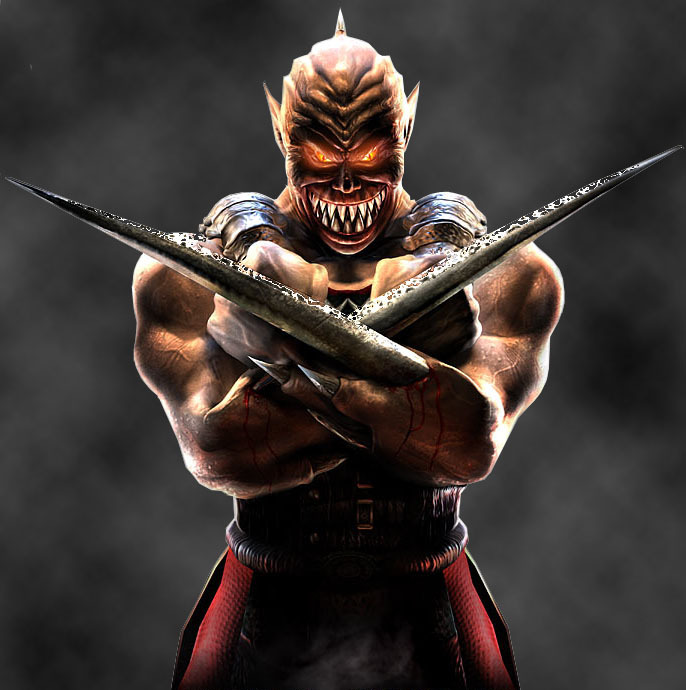 The Tarkatans, represented in-game by playable character Baraka, are the shock troops of the Shao Kahn's, the setting's Evil Overlord. Distinguishing them from hosts of pointy-eared-fanged-ugly humanoid type are the retractable blades of bone that grow from their forearms. More alien and savage than the halberd-hefting hobgoblin, they would make for nasty beserker-type mooks. I can see them being fast, handy, and good at parrying and blocking with their bony growths on their arms that surround the main blades. Under a sophisticated leader, I can see them being trained in the use of crossbows or javelins before closing to melee.
Tarkartan –  HD:2, AC:6, 2 attacks/round, d8 damage.
Elites/leaders –  HD:4, AC:4, 2 attacks/round, d10 damage.
I could even see them as player characters for mercenary/fighter types. I'd model them with the same ability adjustments and level limits as half-orc fighters, but with the ability to deploy their blades as 'natural' longsword attacks. To counter this advantage, they would not be able to develop proficiency or specialisation in any artificial weapons, putting them behind human warriors once magical weapons are more desirable.
I'm also down with assassin class human/tarkartan hybrids a la Mileena, to serve as infiltrators and leaders. No bone swords but better class options and full weapon proficiencies.
The games don't exactly give much in the way of background depth from the tarkartans, except that they apparently have their origins as human/demon hybrids. In one cutscene a character hurls a bottle of tarkartan scent on her nemesis, whose tarkartan bodyguards proceed to turn on and eviscerate, believing her to be a 'rival male'. I can imagine tarkartans being fiercely bestial, aggressive and competitive in their natural element, sharpening their bone swords and keeping one eye on their uppity underlings and the other watching their boss for signs of weakness.
Goro and his ilk, the hulking, four-armed shokan race, are also a good candidate for higher HD, ogre-type antagonists.
Just to really emphasise their gimmick and distinguish them from ogres, I've give them 4 attacks per round, d6 fist damage from each. Their multiple limbs would give them a huge grappling advantage and allow for some weird combat manoevres, and even in D&D's abstract system, I'd give them something similar to the bear-hug attacks, where if all four attacks hit, a man-size or smaller opponent is grappled and lifted by one pair of arms and suffers an automatic 2d6 damage pounding per round from the other pair of arms unless they can successfully escape with a bend bars check or are freed by outside assistance. Shokan rarely use weapons, but some employ scythe-like daggers or grippable claw blades, known as 'dragon fangs'. These add +1 to hit and damage but disable their grapple attacks. Ceremonial guards may carry great halberds, with which they are limited to a single attack per round but with a +4 damage bonus due to strength. Shokan nobility have scaly growths upon their backs and claim descent from dragons. These fearsome warriors have a limited ability to throw fire from their hands, as well as +4 on saves versus fire-based attacks. Other, lower-class shokan warriors have been sighted with a tiger-striped, feline aspect to them. Female shokan are typically smaller in stature than their male counterparts, of equal fighting ability but less brute strength (d4 damage dice for unarmed attacks, d6 for champions)
Shokan  –  HD:4+4, AC:5, 4 attacks/round, d6 damage, special: grapple.
Elite  –  HD:6+6, AC:4, 4 attacks/round, d6 damage, special: grapple, at-will burning hands 6th lvl spell-like ability.
Champion  –  HD:8+8, AC:3, 4 attacks/round, d8 damage, special: grapple, at-will burning hands 8th lvl spell-like ability.
Shokan appear to have a more sophisticated culture than the tarkartans and are at least as intelligent as humans, although I think their natural abilities make them too overpowered to be PC candidates.
MK3 introduced Motaro the centaurian, in my memory the most difficult boss in the entire series. I lost game after game to this guy, stuck on the penultimate rung of the ladder before big boss Shao Kahn, getting my ass-kicked over and over again by this demonic centaur on steroids.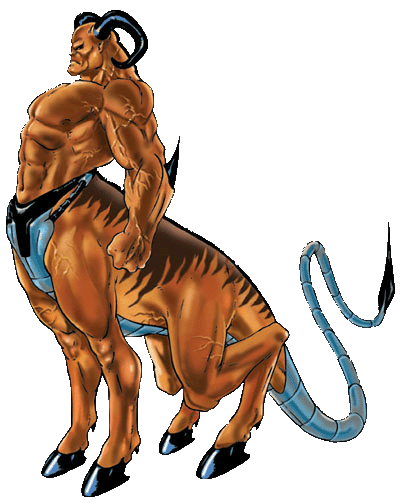 I like centaur-monsters, but standard centaurs are not very scary as an antagonists. MK didn't give the centaurians much attention, but Motaro's plethora of powers and great strength makes his people good candidates for D&D monsters. Their skin has a special magic resistance that deflects magic bolts, rays and energy blasts (magic missile, cone of cold, lightning bolts, fireballs etc), with a 30% chance of reflecting back towards the caster. Centaurians also can use the following spell like abilities once per round: dimension door, magic missile (a single missile, fired from the tip of the tail).

Centaurian – HD:6+6 AC:4, 1 frontal attack for d10 damage or standard weapon damage +4, rear kick for 2d8 damage, tail whip for d6 damage if missle not fired. Special abilities spell deflection, spell-like abilities.
I can see centaurians as being threats to even high-level parties due to their great mobility, special abilities. They're difficult to deal with at range and their dimension door ability, high speed, and ability to attack from the front and rear make them very hard to out-manoeuvre.
As fun as it might be to set a campaign in MK's Outworld, I think that I would use these races on a lesser scale. Maybe feature them in a dungeon on an island, under the command of a soul-stealing, shape-shifting sorcerer. Or have them appear as the result of a monster summoning spell, bound to serve as warriors in the campaign world through ancient pacts, similar to Elric of Melibone's kelmain or vulture lions. Perhaps a cursed artefact opens a portal to Outworld that allows for the invasion of Shao Kahn and his shock troops. A mixed group of these three types, with their multiple attacks and unconventional special abilities, would be a force to be reckoned with. I might not have the hardware to run any of the newer Mortal Kombat games, but it won't be long before I see a shokan battle at the table.